The Shire of Exmouth
---
Australian Institute of Marine Science
Located 1,270 kms north of Perth, the Shire of Exmouth is an area of 6,261 km2 situated on the tip of the North West Cape in Western Australia. Originally constructed in 1964 as a support town for the United States Naval Communications Station Harold E Holt, the Shire of Exmouth is now a modern and expanding regional Western Australian town, and one of the few areas in Australia that can boast the Range (Cape Range National Park) to Reef (Ningaloo Marine Park) experience.
Climate
Exmouth is blessed with a dry and warm climate all year round with no wet season. In the summer months the daytime temperatures range from the mid to high 30°C's, while a typical winter's day reaches around 25°C. Exmouth is relatively dry – receiving on average ~260 mm of rainfall per year. Traditionally, the rainfall periods follow the tropical cyclone months of January to March, with a second peak during the onset of winter in May and June (Figure 1).
click image for larger image view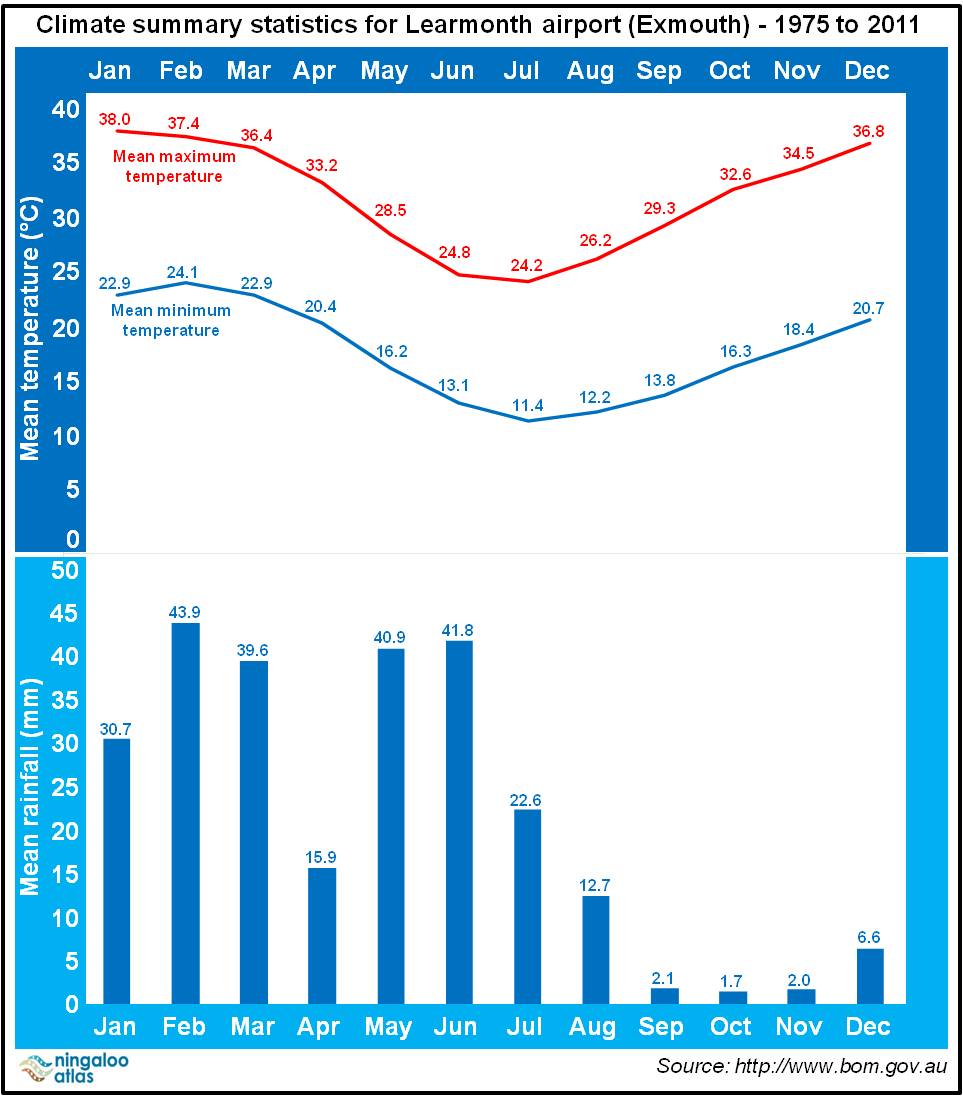 Figure 1. Monthy mean temperature and rainfall for Learmonth airport (Exmouth) (1975 to 2011). Data extracted from the Bureau of Meteorology.
Population demographics
In 2010, the Shire of Exmouth had a resident population of 2,487 – an increase of 273 residents since 2006 (Figure 2a). In 2010, 54 % (1,352) of the resident population were males and 46 % (1,135) were females (Figure 2A) – see Figures 2B and 2C for demographic changes by gender from 2006 to 2010. Additional information on the population demographics are attached (see Excel spreadsheet below).
click images for larger image view

Figure 1. Exmouth population demographics (2006 to 2011). A. Total population numbers. B. Percentage change in male age groups. C. Percentage change in female age groups. Data extracted from the Australian Bureau of Statistics.
Services
Services in Exmouth include medical (hospital, doctors, community health, dental, physiotherapy, counselling, specialist visits), a Police Station, a state district school, and a public library. Volunteer services operating in Exmouth include St. Johns Ambulance, Fire and Rescue, Home and Community Care, Lioness, Sea Rescue, State Emergency Services, and many other smaller clubs and organisations.
History
The North West Cape and Exmouth have a rich history that includes Indigenous Australians, European explorers, whaling operations, the United States Navy, and more recently tourism, oil and gas, and a number of light industries and businesses. Table 1 presents just a small snapshot of some of the major historic events related to Exmouth and the North West Cape.
Table 1. Major historic events relating to Exmouth and the North West Cape.

Year
Historical events
Pre-European settlement
The Junigudira and Baiyungu people inhabited the Ningaloo Coast, and are reported to have left the area either before or shortly after European settlement.
1912
Vlamingh Head lighthouse constructed. Point Cloates whaling station established and operated intermittently until 1957.
1942
The United States Navy established a submarine base – code named 'Operation Potshot'.
1953
West Australian Petroleum discovered Australia's first flowing oil at Rough Range on the North West Cape.
1964
Town of Exmouth established to support the United States Naval Communications Station Harold E Holt. MG Kailis Fisheries established a prawn trawling industry.
Current
A modern, vibrant, and growing regional Western Australian town (see Google Earth layer for the Shire of Exmouth Town Planning Scheme No.3).
For more information Exmouth, visit the Shire of Exmouth, Visiting Ningaloo, the Exmouth Visitor Centre, and Exmouth Info.
---